A Guide to Gambling Laws in Florida In 2023
Despite being one of America's most populous states with millions of gambling enthusiasts, Florida actually has a fairly strict set of mandates governing the pastime. To understand what the current Florida gambling laws allow and disallow, you'll need to consult each of the relevant pieces of legislation in place.
To that end, our FL gambling law guide summarizes all this legislation, including the three commercial laws and the new Seminole tribal compact (2021) that govern gaming in the state. And though these laws all disallow online gambling, Internet betting sites are also legal to use, provided Sunshine State residents join offshore casinos and sportsbooks that are operating in accordance with their own home countries' rules and regulations.
To learn about the legality of gambling in FL both domestically and offshore, we've got all the details!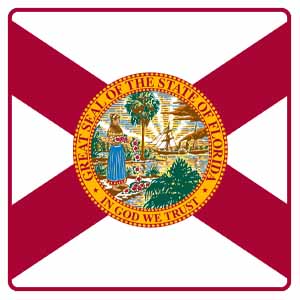 Top Legal Online Florida Casinos For 2023
What Is The Legal Gambling Age In Florida?
There are two different thresholds for the legal age for gambling in Florida, and they depend on the type of gaming in which you wish to participate. For horse racing betting, jai alai betting, and things like bingo, raffles, and the Florida Lottery, you only have to be 18 or older.
The Florida casino age, however, is set at 21 and up. In other words, for traditional gambling (slots, blackjack, baccarat, etc.) and tournament poker at the state's seven tribal casino venues, you must be at least 21 to be on the gaming floor. FL casino resorts allow guests of all ages to access the other amenities on offer, but for casino play, the legal gambling age in FL is a hard 21. Blackjack!
Is Online Gambling Legal In Florida?
Yes, as long as you play at a legitimately authorized offshore gambling site such as the one listed on this site. In FL, it is not legal to own or operate an online casino or gambling site, therefore there are no state-regulated options available.
The Florida Lottery has some games that are available over the Internet, and you can purchase tickets online, but this service utilizes middlemen to physically buy tickets for players and then send the results to those players' email addresses.
Fortunately, there is no FL law that bars residents of the state from legally playing online casino games offshore. These offshore casinos are safe and legal to use because they operate outside of FL and US legal jurisdiction, and they offer all the classic casino games you know and love, as well as sports betting, horse racing betting, dog racing betting, cash poker tables and tournament poker rooms, live dealer games, simulated sports wagering, bingo, raffles, and more.
List Of Florida State Gambling Laws
There are three predominant sections of the Florida Statutes that deal with commercial (i.e. non-tribal) gambling laws in the Sunshine State, and we summarize these below to shine a little light on the general scope of each one.
2019 Florida Statutes Chapter 849 – Gambling
This section of FL law deals with general gambling and sets rules and regulations for the operation of casinos, cardrooms, bingo, and most other avenues of gambling (excluding pari-mutuel betting and the state lottery – see below). In addition, this is where you can find information about the legal casino gambling age in FL, which is set at 21-plus.
Essentially, FL Statutes Chapter 849 outlines the basic regulations and prohibitions in detail, including setting standards for violations and penalties for operators and players who defy the state's mandates.
This section also includes information on FL's many "racino" venues, including what they can and can't offer in the way of more traditional gambling amusements.
2019 Florida Statutes Chapter 550 – Pari-Mutuel Wagering
Pari-mutuel betting – aka pool-based betting – is what governs horse racing, greyhound racing (no longer available in FL), and jai-alai. All states tend to have different sets of gambling laws for pari-mutuel wagering, as there is no house take, and it thus doesn't conform to the legal standards that define gambling in general.
You can find the full details outlining Florida pari-mutuel betting in Chapter 550 of the Florida Statutes, including the 18+ minimum gambling age for this market.
However, it's important to note that the newest Florida Statutes revision stripped out the language of this section that applied to dog racing, as the sport was banned entirely by the electorate in a public vote in 2018. Amendment 13 saw roughly 70% of the FL populace vote in favor of banning dog racing in the state, which went into full effect on January 1, 2021.
2019 Florida Statutes Chapter 24 – State Lotteries
The Florida Lottery is governed by Chapter 24 of the FL Statutes. Here, you can find everything you need to know about the state-run lottery and multi-state lotteries (Powerball, Mega Millions) offered in FL, including retailers that are allowed to sell FL lottery tickets and the 18+ minimum age to play.
The FL lotto also mandates that winners must submit to being publicized online and in print, which is a rule most state lotteries have in order to help advertise.
Florida Tribal Compacts
The only real casinos in FL are Indian casinos operated by the Seminole Indians of Florida and the Miccosukee Tribe of Indians of Florida. Florida casino gambling laws are governed by two different tribal gaming mandates.
Both the Seminole and Miccosukee are able to operate thanks to the federal IGRA, or Indian Gaming Regulatory Act of 1988. As a Class II operator, the Miccosukee are governed exclusively by the language in this Act and have no compact with Florida itself.
The Seminole, however, operate Class III casinos, which are "Vegas style" venues that include slots, blackjack, baccarat, and other traditional house-banked table games. As such, an agreement with the state itself is required, and this was initially covered by the 2010 Gaming Compact between FL and the Seminole tribe. The language approving that compact can be found in Chapter 285 of the FL Statutes.
While the Florida government was found by a federal court to have breached the terms of the compact in 2014, negotiations had been ongoing to restore and improve the terms. In 2021, FL Gov. Ron DeSantis signed a new Seminole compact with the tribe, authorizing Seminole casinos to offer live roulette and craps tables in addition to granting them exclusive sports betting rights in the state. Online gambling and sports betting are not a part of the new compact.
Once the 2021 Florida-Seminole gambling compact gets federal approval, we will include all relevant links to the agreement on this page. Several legal challenges are also pending, though the Seminole should prevail easily.
FL Online Gambling Laws
Right now, online gambling in FL – via domestic operators – is not legal per the laws above. In other words, no local brick-and-mortar FL casinos or racino venue is authorized to host online casino gaming. While this could change in the future, the road ahead is long, and legalized sports betting will be the first consideration on the list.
If you live in the Sunshine State and aren't near enough to a casino to justify the expense of travel just to pull the crank on a few slots or play a couple of hands of blackjack or poker, you can legally use offshore betting sites from anywhere in FL, 24/7.
Florida Mobile Gambling Laws
In some states – even those without statewide online gambling – casinos can offer mobile access to their games as long as patrons are on the casino grounds themselves. Unfortunately, this is not the case in FL, as there is no domestic iPhone gambling or Android gambling available.
That said, offshore sites offering online play are also mobile-optimized to give you a web-app based iPhone and Android casino experience. There are no laws on the books in FL that prevent mobile casino apps, so as long as you have a mobile device, a modern browser, access to the Internet, and membership at a reputable offshore betting site, you can gamble online freely and safely.
Florida Offshore Gambling Laws
There is no language in the Florida Statutes that bars FL residents from gambling for real money at offshore betting sites like those listed here. Because these sites operate outside of US and FL legal jurisdiction – and because there are also no federal laws barring their access – FL gamblers are free to use them.
Signing up is fast and free, and these online casinos and sports betting sites offer more games and deposit and withdrawal options than you'll find in any FL casino, including roulette and craps, which the Seminole have not yet rolled out to their brick-and-mortar customers.
Even when/if online gambling becomes a legal domestic offering from FL casinos, you'll continue to be able to access these offshore sites. Still, you must take care to only choose a reputable brand listed here, as you should never gamble real money with untested providers operating online.
Upcoming FL Gambling Legislation
Currently, there are no upcoming bills slated to be heard in the 2021 FL legislative session. In 2019, three bills to legalize sports wagering were introduced, but all three died in committee and have not been refiled. Domestic Florida sports betting has instead been effectively legalized by the 2021 FL-Seminole gaming compact.
If the compact loses the legal challenges facing it (brought by interested commercial parties like DraftKings and FanDuel, as well as anti-gambling nonprofits), FL state legislators may revisit the idea of passing sports betting laws, which could conceivably include online options. However, this is an unlikely contingency.
Legal Casinos And Game Rooms In Florida
The history of legal casinos and gaming halls in FL started back in 1932, when pari-mutuel betting was legalized during the Great Depression. This was followed by the introduction of jai alai in 1935, which is a betting sport that still thrives in FL. (In fact, the state has more jai alai frontons than any other in America.) That same year, slot machines were legalized, though they were banned in 1973.
In 1979, the first Indian tribes opened their bingo halls in the state per the IGRA, and commercial casino cruises followed in 1984. In 1986, the FL legislature legalized the Florida Lottery and banned casinos, though the latter were finally reauthorized by voter referendum in 2004 via Amendment 4.
In 2018, Amendment 3 was supported overwhelmingly by FL voters, 71.47% to 28.53%. This Amendment gave FL residents the "exclusive right to decide whether to authorize casino gambling," leaving expanded gambling initiatives up to voters and keeping the Seminole and Miccosukee casino exclusivity agreements in place (for now).
Today, Florida is home to 35 brick-and-mortar gambling venues, with six Class III casinos operated by the Seminole and one Class II venue run by the Miccosukee. The remaining facilities are all "racinos" operating at defunct dog tracks around the state. In all, there are retail gambling opportunities of some kind (not counting the FL Lottery) in 20 of Florida's 67 counties, with most being concentrated in Miami-Dade and Broward.
Who Regulates Casino Gambling In Florida?
All racino and cardroom venues are regulated and overseen by the Florida Division of Pari-Mutuel Wagering, while the state's lotto is run by the Florida Lottery agency. Seminole casinos are overseen and held in compliance by the Seminole Tribal Gaming Commission, while the Miccosukee casino is governed at the federal level.
Going forward, there could be legislative initiatives to streamline all these disparate bodies into an overarching Florida gaming commission, which may happen if tribal exclusivity is ever abandoned. Of course, that is not very likely, and the new 2021 gaming compact – once federally authorized – will lock up tribal exclusivity for the foreseeable future.
Florida Internet Café Laws
Internet cafés used to be a common sight in Florida, ostensibly set up for those who didn't have regular access to the Internet. Such venues are common around the world.
In the Sunshine State, when it came to the concept of the internet café, Florida residents began using them to gamble via unregulated domestic casino sites branded as "charities," which led to the dismantling and banning of such locations statewide. The Florida Internet café law – passed via House Bill 155 (2013) – sought to outlaw these so-called "adult arcades."
But the language in the law is unclear, and under its terms, all Internet-connected domestic gambling could be deemed unlawful in the state – or not. Because of this and other ambiguities, FL Internet cafes started reopening in 2019, using a "spin to reveal" function that makes the results of the charitable games on offer known to players before they play. There are roughly 100 such locations statewide.
Many lawmakers are of the opinion that these outlets are still unlawful, and it's likely that new laws will be written to address the issue. In the meantime, you can safely and legally play real online casino games in FL by using any of the reputable operators listed here (though we don't recommend doing so from an FL Internet café).